Ohio Energy Leadership Council
Representing Your Interests through the Ohio Energy Leadership Council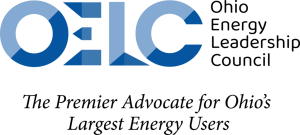 The Ohio Energy Leadership Council is an association of large Ohio energy consumers that collectively spend over $3 billion per year to obtain electricity and natural gas and employ over 250,000 people across the state. Brakey Energy President Matt Brakey has served as Chairman of the organization and is the current Secretary Treasurer.
OELC's mission is to promote customer-driven policies to ensure an adequate, reliable, and efficient supply of energy for all Ohio consumers at competitive prices. In addition to general membership, OELC members can participate in opt-in groups focused on specific energy issues.
Brakey Energy Client Group is both a general and opt-in member of OELC. Through Brakey Energy Client Group, our clients receive: 
Non-voting membership in OELC and its opt-in groups;
Representation at all OELC meetings and the opportunity to participate in meetings; and
Representation before the Public Utilities Commission of Ohio, the Federal Energy Regulatory Commission, and the state legislature on issues regarding energy availability, quality, and cost.