Ohio Energy Report: February 2023
Brakey Energy Welcomes New Team Member
We are pleased to welcome Justin Fienberg to the Brakey Energy team! Justin recently joined our company as an Associate Energy Analyst.
Justin holds a B.S. in Electrical and Computer Engineering from The Ohio State University and has a background in industrial manufacturing, optical engineering, and marketing. Before joining Brakey, he worked with machine vision inspection systems for the food and beverage packaging industry, where he optimized defect detection capabilities on high-speed, high-volume production lines.
Justin is a former rugby player, avid dog lover, and karaoke enthusiast. He speaks conversational German after one year studying abroad in Munich, where he also interned at an international semiconductor manufacturing facility. Justin also has an extensive rock and gem collection from many rockhounding trips, and he is an amateur mineral photographer.
Make Plans to Attend the Upcoming Ohio Energy Management Conference
The Brakey Energy team will have a strong presence at this month's Ohio Energy Management Conference and will be leading several workshops. The conference is Ohio's premier conference on energy rates, regulations, and efficiency. It will take place February 28 and March 1 at the Columbus Renaissance Hotel. Brakey Energy is a proud sponsor of the Ohio Energy Management Conference.
This year, we are excited to announce that Brakey Energy clients can receive complimentary registration to the conference. Please contact Catherine Nickoson if you are interested in attending one or both days.
To see a complete agenda and to register online, please visit the event website.
Nonmarket-Based Services Rider Rates Changing for FirstEnergy-Ohio Customers
Nonmarket-Based Services (NMB) rider rates will be changing for customers of FirstEnergy's (FE) three Ohio operating companies: Ohio Edison (OE), The Illuminating Company (CEI), and Toledo Edison (TE). The NMB rider is used to recover FE's nonmarket-based costs for transmission and ancillary services. New rates will go into effect on April 1, 2023, instead of March 1 as in years past.
Current and April 1, 2023 NMB rider rates for OE, CEI, and TE Residential (RS), Secondary (GS), Primary (GP), Subtransmission (GSU), and Transmission (GT) rate schedules are shown in the tables below. Rates are per kilowatt hour (kWh) for RS customers and per kilowatt (kW) or kilovolt-ampere (kVa) for GS, GP, GSU, and GT customers.
Table 1: OE NMB Rider Rates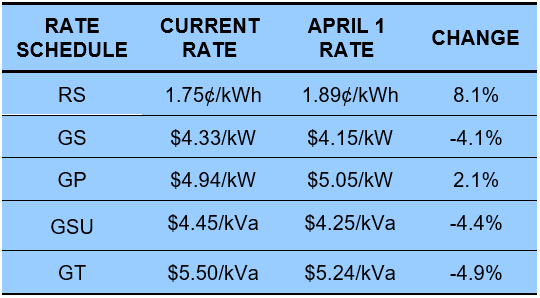 Table 2: CEI NMB Rider Rates
Table 3: TE NMB Rider Rates
Clients that are participating in FE's transmission pilot program are opted out of paying the NMB rider. If you have any questions about this pilot program or how the new NMB rates will impact your electric costs, please contact Katie Emling.
AEP Files April 1, 2023 Update to Basic Transmission Cost Rider
Transmission costs for almost all Ohio customers of American Electric Power (AEP) will increase on April 1, 2023 in response to AEP's updated Basic Transmission Cost Rider (BTCR) rates. Increases in BTCR rates are primarily the result of a 12% increase in the Network Integration Transmission Service (NITS) rate for 2023 for AEP's Ohio service area. NITS charges are the largest component of the BTCR rates.
Select interval-metered customers, including Brakey Energy clients, may elect to participate in a transmission pilot program. The demand portion of BTCR charges for a customer participating in the pilot program is calculated based on the customer's load during AEP's 1CP. This is an alternative to the default method in which the demand portion of the BTCR charge is calculated based on monthly billed demand.
BTCR rates for customers participating in AEP's transmission pilot program will also be increasing on April 1, 2023.
The tables below show the current and April 1, 2023 BTCR rates for non-transmission pilot program customers and transmission pilot program customers of AEP-Ohio. The BTCR has both kWh consumption and kW demand components.
Table 4: Current and April 1, 2023 BTCR Rates for AEP-Ohio Customers
Table 5: Current and Revised April 1, 2023 for AEP-Ohio Customers Participating in the Transmission Pilot Program
If you would like more information about how the BTCR impacts your monthly electric costs, please contact Katie Emling.
Residential Corner
We have been recommending since October 2021 that customers with expiring contracts default to the Standard Service Offer (SSO) until Spring 2023. We will provide a new and urgent contracting recommendation – either in our March or April newsletter. In the meantime, there is now a two-month teaser offer from Nordic Energy that is actually comfortably below current SSO rates. Residential customers can camp out on this offer until we make our upcoming March or April recommendation. Make sure you contract with a new supplier before contract expiration, otherwise you will get swept up in a very expensive holdover provision.
Regarding natural gas, AEP Energy is currently offering a 24-month fixed price contract for $5.69 per hundred cubic feet with no early termination fees. Customers can cancel at any time and enter into a lower priced agreement if it becomes available. Please note that the price listed will vary based on service territory.
Natural Gas Market Update
The NYMEX price for February settled at $3.109 per Million British Thermal Units (MMBtu) on January 27, 2023. This price is down 34.0% from January's price of $4.709 per MMBtu. This settlement price is used to calculate February gas supply costs for customers that contract for a NYMEX-based index gas product.
The graph below shows the year-over-year monthly NYMEX settlement prices for 2019, 2020, 2021, 2022, and 2023 to-date. Prices shown are in dollars per MMBtu of natural gas.
Figure 1: NYMEX Monthly Natural Gas Settlement Prices
Figure 2 below shows the historical February 10, 2021 through February 10, 2023 Around the Clock (ATC) forward NYMEX natural gas prices in dollars per MMBtu for the balance of 2023 (labeled "Custom Strip" in the graph below) and calendar years 2024, 2025, 2026, and 2027. Following downward movement in recent weeks, natural gas prices for the balance of 2023 and future calendar years have ticked up slightly in recent days.
Figure 2: ATC Calendar Year NYMEX Natural Gas Prices
*Pricing courtesy of Direct Energy Business.
Electricity Market Update
Figure 3 below shows the historical February 10, 2021 through February 10, 2023 ATC forward power prices in dollars per Megawatt hour (MWh) for the balance of 2023 (labeled "Custom Strip" in the graph below) and calendar years 2024, 2025, 2026, and 2027 for the AD Hub. Power prices have followed falling gas prices.
Figure 3: ATC Calendar Year Power Prices for the AD Hub
* Pricing courtesy of Direct Energy Business.